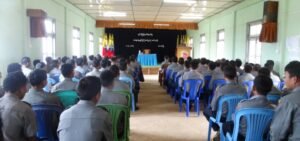 In the upcoming 2015 Myanmar general election, 1029 of special police forces will be duty in 9 townships, Chin state for election security and the special police force demonstration training has been started on 7 September at Yezani Hall in Chin state. In the opening address, state police superintendent U Myint Lwin said that the upcoming general election will be different from previous elections in Myanmar as which will be held with international election watch groups, therefore, special police forces will take all responsibilities for the security of election and you have to discuss and participate more than usual at the training as it will play an essential role for democracy in our country in order to gain a trustworthy for countrymen.
At the opening ceremony, state police superintendent U Myint Lwin and training in-charge, additional superintendent police Myint Naing, Myint Kyi, and police officers, trainees, officials in state and district level, total 78 were attended.
"A special policeman will duty each polling station, there are 1029 polling stations in Chin state. This 10 days training for trainers is conducting for 24 persons from 8 townships, for the Paletwa township, a trainee will attend at Sitwe, Arakan state, because of transportation problem. After this training township level training will be held for the extension," said Myint Naing, additional superintendent and chairman of training for trainers.
The election security special police forces will be assigned to duty at their respective townships from 15 October to 30 November 2015 in full time and they will be given all necessary security equipment.