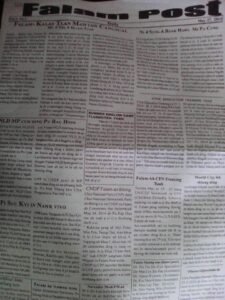 Chin State authorities have banned the Laizo (Chin) language newspaper, Falam Post from publishing as of 16 October.
The Falam Township Administration Office sent the newspaper a letter on 15 October telling them to stop publication because they were not properly registered.
Ko Maung Maung a journalist from the Falam Post said: "If we continue to publish without official registration we will face legal action. We will publish our final edition today and we will stop from tomorrow (16 October)."
The Falam Post is the second Chin language newspaper to be banned by the Chin state government. On 30 September it banned the Chin language Hakha Post newspaper, which is based in Hakha Township.
Salai Holly the Editor of the Chinland Post, another Chin newspaper said: "The (authorities) reason (for banning the paper)  is that the Falam Post has no official registration but I think they just want to stop them reporting news and opinions and used the lack of official registration as their reason."
According to him the 2008 constitution states that all ethnic groups are free to use, teach and propagate their native languages. These rights were also included in the peace agreement signed between the government and the Chin National Front (CNF) so the Chin state government should not be
banning ethnic language newspapers.
He said "Newspapers from Chin state are at the mercy of the state government. If they wanted to let us publish it would be possible because we heard that the ban did not come from the Union Government. The state government has to be asked whether it is prepared to allow ethnic languages to be used and promoted.
The Falam Post was started in May this year and was published five days a week.