The Seventh Day Church's elder and military retired, U Than Za Pau said that military has claimed to construction in the lands of 13 households and Church-owned (a total of approximately 2 acres) in ward 4, Chanmyint-Aungsyi block, Kalaymyo, as their engineer has included those lands in the master plan, then they had initiated to confiscate it since August 2017.
"On the first day of August 2017, the military in-charge, officials and other officers of Land and Revenue department came and claimed the residents' lands and Church-owned land next to LIB 228 military camp. Then we had argument on that day. They came twice in the same month, and on 20 October they had destroyed the boundary pillar. Now we are preparing to prosecute in the court," he told to Khnumthung News.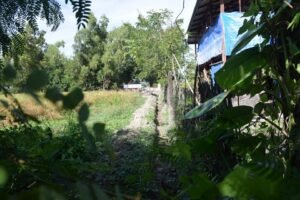 The disputed land areas were own by U Kin Kam Ai, and he had donated to the Seventh Day Church in 1987. Although in 1990, LIB 228 had confiscated the land by verbally; in 1997 the military had returned to it with all documents on 5th December. Then the land was registered under the Government's land-record (105) in 2001, said U Thang Za Pau.
In relate of this, GS Mang, director of Pioneering Peace and Development in Kalaymo based said, "The Church has retain land-record (105) issued from Government and LIB 228 had also returned the land already. It's totally unfair to reclaim as their own property and this matter should not be happened like this."