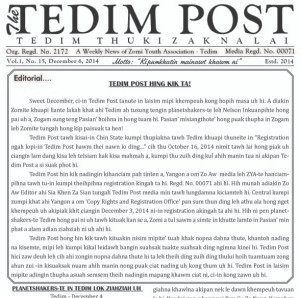 The Chin state government has granted permission to publish Hakha Post and Tidim Post again after the two newspapers were banned for not having registration from the Ministry of Information. Pu Lalawmpuia, Editor of Hakha Post said, "We have got permission to publish our newspaper, but are yet to get the official letter from the concerned authority. We will start publishing immediately."

Similarly, the weekly newspaper Tidim Post was also permitted to re-publish from December 3 and it has gone in for printing from December 6, according to Editor Pu Thang Van Lian.
"It is a great pleasure to publish our newspaper again," he said.
The Hakha Post and Tidim Post newspapers were banned by the Chin state government on September 29 and October 16, as these are not registered officially.
Meanwhile, Zolengthe and the Falam Post continue to be banned by the state government.