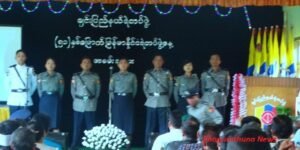 The 51st anniversary of Myanmar Police Force Day, which has established on 1st October 1964, was held at 8 am, Yezani Hall in Hakha yesterday. At the anniversary, Chin state Chief Minister and his Ministers, Secretary of Chin state and Parliament members, department officials, police officials, warrant officers, corporals and families of policemen, local elders, leaders of community groups and representatives of media were attended.
In the delivery speech of Chin state Chief Minister, he said that Myanmar police force have to be transforming with human rights issue and to be practicing in accord with international standard and, they should follow ethics of police force timely and to concern the security of public in order to vote freely in the upcoming general election.
Chin state Chief of Police has also read the letter from U Zaw Win, Myanmar Chief of Police, it highlighted that the name of Myanmar police force had changed in accordance with political landscape and changing the formation of police force to democratic way. Myanmar police force is being worked with EU, UNDP and Interpol.
In the ceremony, Falam township police department got the prize of lowest rate of crimes and most recruiting forces award, the second prize was got by Tidim township police department, most prevention and most arresting cases award was got by Mindat township police department, and Paletwa township police department got most run warrant arresting award. These prizes were distributed by state Chief Minister and state Parliament Chairman.
The total attendant of 51st anniversary of Myanmar Police Force Day was 100 people and Chin state police 41 forces had made blood donation on 29 September at Hakha Civil Hospital for the 51st anniversary of Myanmar police force day.